Sculpter dans le jardin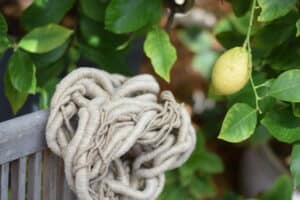 Le jardin est luxuriant.
La porte d'entrée en bois gris anthracite est entourée de vignes grimpantes.
La couleur miel de la maison est partiellement recouverte de glycine.
Dans la cour, l'olivier, le laurier et le citronnier distillent leurs arômes avec constance.
Après quelques pas dans la cour, apparaît un jardin traversé tout en longueur par un sentier pavé de pierres pourpres et mauves.
Y poussent des figuiers, des noisetiers, des herbes aromatiques, des tomates, des courgettes et des fleurs.
Dans cette abondance végétale soigneusement organisée, durant les doux après-midi du printemps, Aude y sculpte le lin.
La sculpture est tachetée d'ombres et de lumière.
Un moment de grâce.
Sculpting in the garden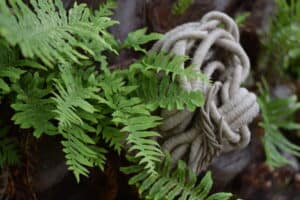 The garden is lush.
The anthracite grey wooden front door is framed by climbing vines.
The honey-coloured house is partially covered with wisteria.
In the courtyard, the olive, laurel and lemon trees give off a constant aroma.
Just a few steps in the courtyard, and a garden appears, crossed by a path paved with purple and mauve stones.
Fig trees, hazelnut trees, herbs, tomatoes, courgettes and flowers grow here.
In this carefully organised plant abundance, during the mild spring afternoons, Aude is sculpting linen.
The sculpture is dappled with light and shadow.
And this moment is touched by grace.
CF