🇬🇧 The world's leading international fair for contemporary craft and design returned to London's Somerset House last week for its 19th edition. Collect inhabits a singular space in the art and design world. One of the few international fairs to focus almost exclusively on contemporary objets, it remains intimate in feel, yet wears its global stature with ease. The increasingly diverse range of galleries and artistic voices featured at this year's fair made the show richer in content and discovery than ever before.
There's a buoyancy about Collect this year – an anticipatory quality shared by exhibitors and attendees. And while every stand was carefully curated and had its strengths, here are three galleries that particularly caught our eye. One of them is Maison Parisienne […].
Full article here
🇫🇷 La principale foire internationale de l'artisanat et du design contemporains s'est tenue la semaine dernière à la Somerset House de Londres pour sa 19e édition. Collect occupe un espace unique dans le monde de l'art et du design. Elle est l'une des rares foires internationales à se concentrer presque exclusivement sur les objets contemporains. Elle demeure intime, tout en affichant avec aisance sa stature mondiale. L'éventail de plus en plus diversifié de galeries et de voix artistiques présentées à la foire de cette année a rendu le salon plus riche en contenu et en découvertes que jamais auparavant.
Cette année, Collect a fait preuve d'une grande vitalité – une qualité d'anticipation partagée par les exposants et les visiteurs. Bien que chaque stand ait été soigneusement organisé et ait eu ses points forts, voici trois galeries qui ont particulièrement attiré notre attention. L'une d'entre elles est Maison Parisienne […].
Article complet ici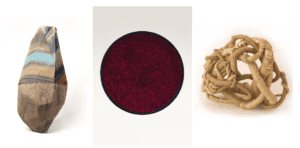 French gallery Maison Parisienne at Collect Fair 2023 exhibited works including L: Strate II by Aware, C: Incandescence by Coralie Laverdet, R: Or et Nature by Aude Franjou.