L'escabeau presentoir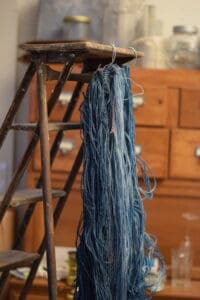 Aude aime chiner.
Un jour, elle revient, le sourire esquissé, avec un escabeau.
Il est pourtant simple, cet escabeau. Il est en métal patiné, en chêne, les marches grincent, le vernis est craquelé, la peinture est écaillée.
Mais, elle sait lui insuffler un nouveau rôle.
Désormais, il est sera l' "escabeau présentoir".
L'escabeau où sont d'abord posés pêle-mêle des ébauches de sculptures, des morceaux de papier avec des idées griffonnées de sculptures, des bobines de lin, un bocal de biscuits aux fruits secs et une pomme.
L'escabeau où est ensuite déposée la sculpture terminée.
L'escabeau présentoir a donc une utilité fonctionnelle mais aussi une utilité éminemment symbolique. Il aide Aude dans son processus créatif!
The display stepladder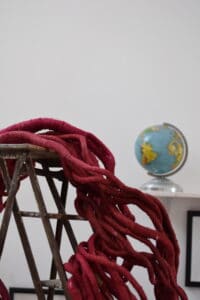 Aude loves flea markets.
Once, she came back carrying a stepladder, with a smile on her face.
This step ladder looks quite ordinary. It is made of weathered metal, oak, the steps are creaking, the varnish is cracked, the paint is flaking.
But Aude knows how to give it a new role.
From now on, it shall be known as the "display stepladder".
Since then, the stepladder is sometimes covered in sketches of sculptures, or scribbled ideas, rolls of linen, jar of dried fruit, biscuits or apples.
The stepladder is also where any newly finished sculpture is placed on display.
So you see, the display step ladder has a functional purpose but also a symbolic purpose.
It assists Aude in her creative process!
CF