La blouse de travail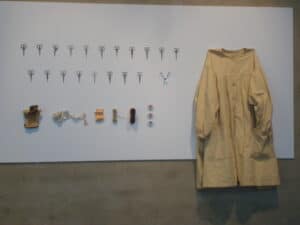 La blouse de travail d'Aude est en lin beige.
De façon presque imperceptible, la blouse est parsemée d'indigo depuis la teinture de sculptures la semaine précédente.
La blouse présente d'amples poches remplies.
Dans la poche droite, il y a une bobine de fil fin de lin, un feutre, un échantillon de lin teinté et un brin de lavande.
Dans la poche gauche, il y a un papier sur lequel est griffonné la liste de courses à faire pour la fin d'après-midi.
The work blouse
Aude's work blouse is in beige linen.
It has faint stains of indigo from the dyeing of sculptures the week before.
The blouse has large, full pockets.
In the right pocket there is a spool of fine linen thread, a felt pen, a sample of dyed linen and a sprig of lavender.
In the left pocket there is a piece of paper with a list of errands to do this afternoon.
CF