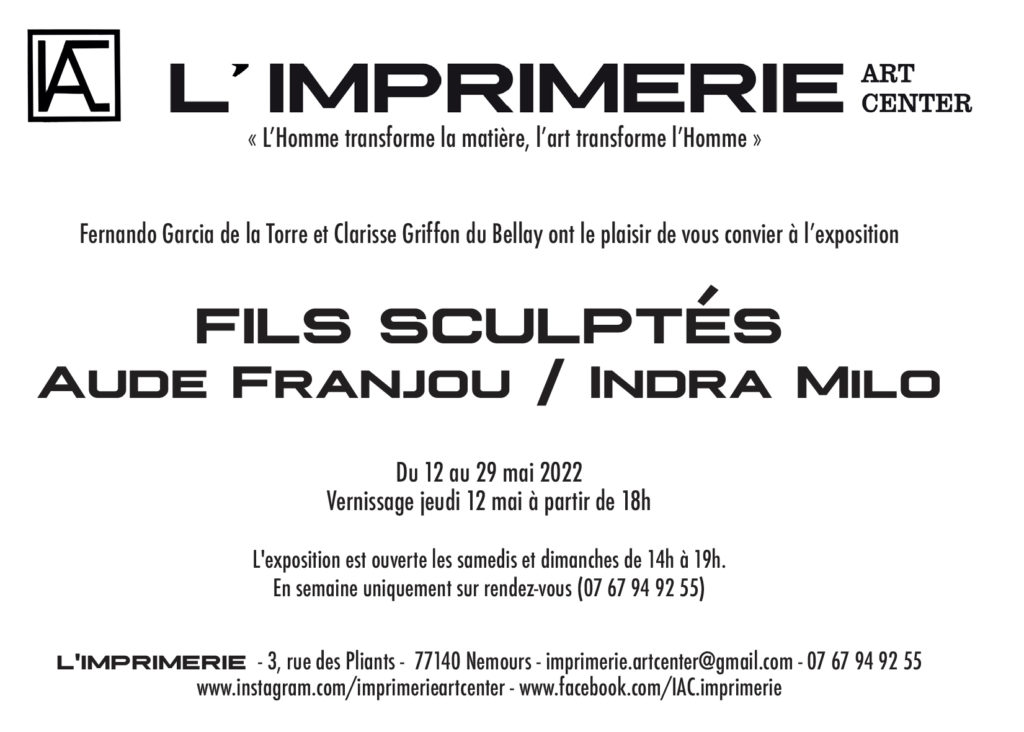 instagram – facebook – contact
---
Exhibition "FILS SCULPTES" AUDE FRANJOU / INDRA MILO
12th May until 29th May 2022
open from 2PM until 7PM at weekends,
or during the week with a reservation (+33 7 67 94 92 55)
Preview on Thursday 12th May, 2022 from 6PM
---
Deux voies se tressent dans le travail d'Indra Milo. La première, en taille directe de bois, où elle recherche la présence animale. Dans la deuxième, elle crée des réseaux de fils qui se développent dans une quête d'expansion illimitée. Les deux se rejoignent dans un questionnement ancré sur les formes du vivant.
Indra Milo's work is interwoven in two ways. The first is direct wood carving, by which she seeks the animal presence. In the second, she creates networks of threads that develop in a quest for unlimited expansion. The two come together as a questioning anchored on the forms of the living.
AUDE FRANJOU
Aude Franjou explore les fibres végétales, fait naître des formes de l'entrelacement d'une fibre brute de chanvre par un fil de lin. Le désir de répétition guide son travail vers la la composition modulaire : un même point de départ, une même forme qui se décline à l'infini, vivante en association. Aude Franjou exposera la sculpture de son installation "Le cœur du figuier", et une sélection de ses nouvelles pieces.
Aude Franjou explores vegetable fibers, creating forms by intertwining raw hemp fibers with linen thread. Her desire for repetition guides her work towards a modular composition: one starting point, one same shape derived infinitely, alive in association. Aude Franjou will exhibit the sculpture of her installation "Le cœur du figuier", and a selection of her new pieces.